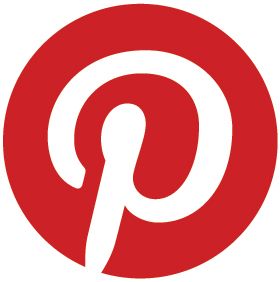 I've recently come to the conclusion that I have a highly dysfunctional relationship in my life.
One that started with curiosity and reverie but quickly dissolved into stone-cold silence. The kind where you both just sit at the table glaring at each other with your arms crossed during Thanksgiving until someone else asks you to pass the mashed potatoes or perform that showtune you've been working on (I don't know what kind of Thanksgivings you have).
This relationship is with Pinterest.
Due to the rollercoaster of emotions I've experienced with it over the span of just a few months, I'm harboring some bitterness towards it.
I roll my eyes and scoff every time I see that little P logo somewhere underneath an image. Pin It? YEAH RIGHT. LIKE I WOULD EVER DO ANYTHING WITH YOU EVER AGAIN.
It's bad, guys. I just want things to be the way they used to be.
So I thought I would share with you my experience. Get it all out. Perhaps then Pinterest and I can be reconciled and move on.
So here it is, my relationship with Pinterest, as described by the thoughts in my head at the time:
PHASE 1: In which Pinterest and I are introduced.
What the heck is this? Just pictures? Why is it so "addicting" and why is it so exclusive that I need an invitation? Why is it forcing me to sign up through another social network? How do I unfollow the 80 Facebook friends I am now automatically following on Pinterest? WHY WOULD I MAKE MY OWN SOAP? I DON'T UNDER---oh...this is actually quite nice.
PHASE 2: In which Pinterest and I hold hands and skip through fields of wildflowers while "Do you believe in magic?" plays in the background.
Pin, pinny pin pin. Cute. Cute Cute. Too bad I don't have my own house or crafting skills or a bank account large enough to accommodate all these cute things I'm pinning. Oh well. No matter!
DECLARATION: I WILL NOW BUY ALL MY FURNITURE AT THRIFT STORES AND MAKE IT LOOK AWESOME AND PREPARE GOURMET MEALS USING ONLY STRING CHEESE AND PILLSBURY BISCUITS!
I have also discovered that I love Harry Potter jokes. In any form.
Hm...I wish I had more pins to look at. What's this "Everything" page?
PHASE 3: In which Pinterest and I are BFF and do everything together...until I start to need some space.
Look at all the things!!
I want ALL the things.
Why are there so many of the same things?
I WILL NEVER BE ABLE TO SEE ALL THE THINGS!
I am feeling overwhelmed that I will never catch up to the things I've already seen.
There are 60 pictures in my field of vision! My eyes don't know where to go first. Left? Right? Up? Down? WHY IS EVERYTHING STAGGERED? What ever happened to nice, neat rows?
SENSORY OVERLOAD. Okay, clearly I cannot handle looking at ALL the things. I will resolve to only look at my FRIENDS' things.
PHASE 4: In which I have intentionally created space between Pinterest and me and it gets kind of awkward.
I have seen all my friends' pins. Some multiple times. But the Everything page clearly gives me the early stages of a stomach ulcer. Sigh. Back to Facebook.
[Awkward Silence]
Oh yeah, I should look at Pinterest! Only two pins since last time I looked? Sigh. Refresh Facebook.
[Longer Awkward Silence]
Oh yeah…Pinterest. Well, I'm probably too far behind now anyway to catch up without revisiting the anxiety I feel looking at the Everything page. CNN it is.
PHASE 5: In which Pinterest gets clingy and I get angry.
Why am I getting 31584 e-mails saying that people I don't know are following me on Pinterest and commenting on some salsa recipe I pinned months ago?
Pinterest, just stop e-mailing me and leave me alone. I've moved on, okay? You're getting dangerously close to MySpace territory, and I can't stand to see you like that.
PHASE 6: In which I break up with Pinterest and attempt to remain acquaintances.
Pinterest, this is hard for me to say, so I'm just going to blurt it out. I turned off my e-mail notifications. I know, I know. But it had to be done. We had some good times, but I just can't do this anymore. Maybe I'll see you around. I hope one day you'll understand.
What is your relationship with Pinterest like? ("Nonexistent" and "I don't understand this post" count.)