Note: Thank you to those who gave me some feedback on whether or not they would like to read this recap. The answer was (shockingly) overwhelmingly "yes." As always, I give the people what they want. If you find yourself reading this and thinking, "wow, this is an enormous waste of my time," remember -- you asked for it. Just...remember that okay?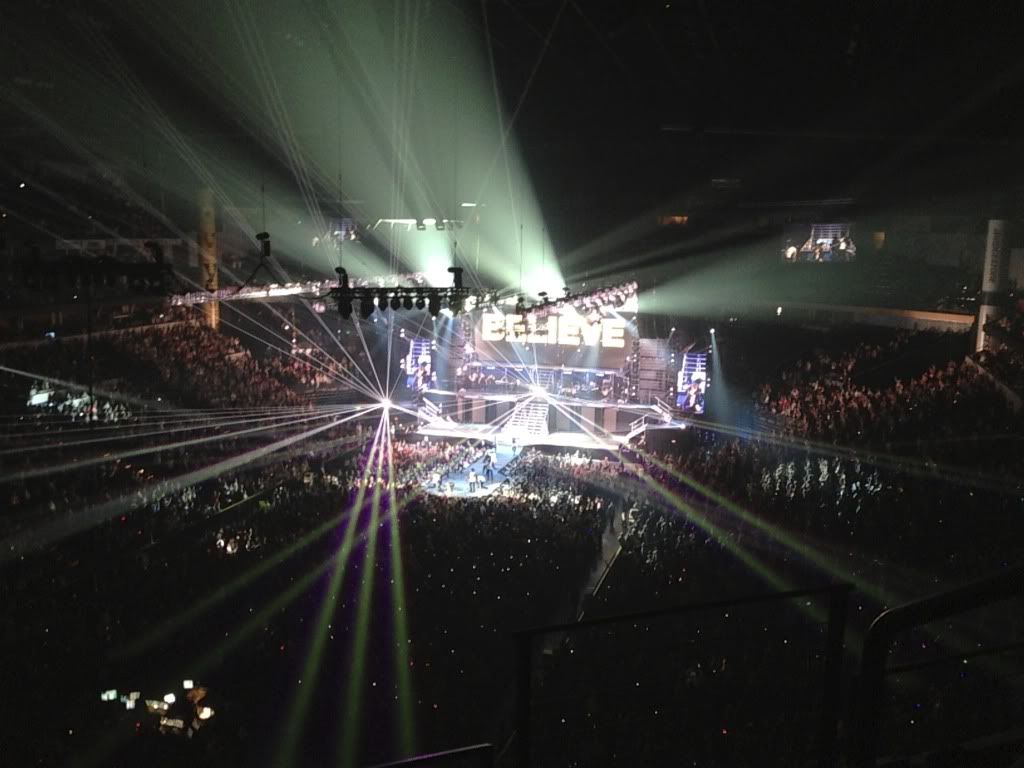 It was an event unlike any other. The constant gleam from the sequined tutu-style skirts and similarly glittery fake Ugg boots of 8 year olds, the roar of 18,000 excitable youth rising with each hopeful break in the interim Michael Jackson songs and falling disappointedly with each realization that no, it was not time for the show to start, the sea of purple flat-brimmed hats emblazoned with the popstar's trademark unword "swaggy" on the underside.
It's safe to say neither my companion Hilary nor I had seen the likes of this environment anywhere else.
There was an adorable sense of pure excitement bubbling over from the kids younger than about 13 which was just too endearing to be annoyed by. They bopped along, holding hands with a parent to avoid abduction, scarcely believing they were HERE about to see JUSTIN BIEBER. They were my favorite fans.
There were of course a vast array of homemade t-shirts, some more sophisticated than others. The puffy paint industry probably noticed a sharp uptick in sales in the Middle Tennessee area last week.
Surprisingly we also saw a few groups of glammed-up seemingly-30-year-old women wearing a new level of atrocity in the way of leggings as pants with nary a child to be seen in their party.
The show began with none other than Biebs' bodyguard/personal hype-man/sidekick Kenny Hamilton welcoming us in.
Insert the aforementioned atomic-bomb-level decibel increase here.
The first performer was Cody Simpson, who I vaguely recognized from Disney Channel or something. Wikipedia tells me this is because he was a guest on "So Random!" (essentially the 21st century forgets-what-a-real-book-is 13-year-old's version of "All That") once and also appeared on this thing where Disney tries to find the Next Big (obscure, played-excusively-on-Radio-Disney) Thing as a mentor to the NBT.
Basically all you need to know is he's blonde, Australian and was born in 1997 which makes me feel sufficiently ancient.
He sang catchy pop songs, danced with a chair eerily similar to the Britney days of yore, and did a little too much pelvic thrusting to be appropriate for the audience, in my humble opinion.
I can't be sure, but I think he donned a royal blue silk pajama suit similar to the one Barney from HIMYM wears, except instead of a tie he wore a wifebeater underneath so that he could take off the jacket and 13-year-olds would squeal.
Seriously how much do we know about this guy? I'm asking.
Highlight performance: an underwhelming snippet of "N***** in Paris" from Watch the Throne. (I know, right?)
Then comes Carly Rae.
I love me some "Call Me Maybe" (haters to the left) and "Good Time," so I was pretty pumped for this.
Most of her songs were super repetitive (that's coming from a pop music fan), but I really liked "Your Heart Is A Muscle" and thoroughly enjoyed the aforementioned songs. Cody sang Owl City's part and was not that great but that song is pretty much un-ruinable, so I enjoyed it.
She had a pink mic stand and wore a black dress and pretty much looked like I expected her to look. At least from section 303, row C.
I'm a sucker for gang vocals and any form of corporate singing so I also soaked in the moment of an arena full of people singing the pop anthem of 2012 together.
Highlight performance: Good Time
THEN IT WAS TIME.
Wait, just kidding. Then we waited nearly an hour for his highness to arrive on stage.
During this time, it got ugly.
It is unreasonable to ask a mob of thousands of teenage girls to wait for the most famous heartthrob on the planet for 56 minutes. It just is.
I'm just saying, the environment was getting unstable.
First it was just the whooing whenever there was a break between MJ songs.
Then came the wave. Never underestimate the power of teenage girls determined to accomplish the same purpose. It was the most swiftly organized round of the wave I'd ever witnessed. In a mere two rounds, nearly everyone was participating.
After the wave came the chanting.
Oh, the chanting.
"JUSTIN! JUSTIN! JUSTIN!" Fairly reasonable and expected.
But then, "JUST-IN BIE-BER, *clap clap clapclapclap* JUST-IN BIE-BER, *clap clap clapclapclap*"
Then, "HUR-RY U-UP, *clap clap clapclapclap*"
NO. Just no. That cadence is reserved for basketball games and…well, that's it. Just basketball games.
Thankfully at this point a countdown finally appeared on the giant screen.
…starting at 10 minutes. Sigh.
The screaming grew in intensity until finally only 60 seconds remained. It was finally time.
The Biebs entered via harness (as was expected) wearing enormous angel wings and all white and looking half-dead. I'm not really sure what the symbolism was.
There was lots of white flowy fabric and some dancers who may or may not have been angels, too? I don't know. I think it had something to do with "Believe." That's all I can decipher.
Between the white suit, the wifebeater underneath the jacket (if you're sensing a theme, you're right) the oval sunglasses and the hair (short on the sides, puffed up and combed back on the top), he was very 80's fabulous.
Since his set was about two hours long and this post is about two hours long so far, I'll just give you the rundown:
Set: It was actually a little disappointing because I expected it to be pretty elaborate after seeing Taylor Swift last year. Mostly just 8,000 screens, but they did a lot with them. Once, they were on a boat (I think) and Justin dove off into an abyss in the stage but appeared below on a screen, swimming. Things like that were pretty great.
Unexpected appearance: a hype-man DJ. He did things like yell "jump! jump! jump!" a lot and banter with JB.
Scaffolding choice for acoustic set: While the scaffolding was not heart-shaped, the Biebs did not disappoint. He was raised up in a cherry-picker-style contraption that swiveled around to serenade us all equally with "Be Alright" and "Fall." "Fall" is one of my favorites from Believe, so I was a little disappointed it wasn't full band, but I enjoyed it nonetheless. I also discovered he is a left-handed guitar player. So, fun fact for you.
Costume changes: Mostly just a lot of wifebeaters and pants that must be specially made for him since they are a walking contradiction: baggy from the waist to mid-thigh, then skinny the rest of the way down. One pair was zebra striped. I don't defend his fashion choices, you guys. Just his music.
Some gold gloves, a fedora and bright red patent leather high top sneakers also made appearances. The shirt came completely off during the encore, at which point Hilary and I yelled at him like the old fogies we are to pull up his darn pants. We could see far too much of his bright red tighty-whities (tighty-reddies?).
Transitions: There were a few videos in between sets with clips from home videos when he was a kid, and him talking to the camera in black and white (so you knew it was serious) about following your dreams and it was actually pretty precious. Never say never and believe and all that. In the video he was actually wearing a real shirt and his hair looked normal, which I think paid off in the delivery.
One Less Lonely Girl Report: The girl was only brought up towards the end of the song, which I thought was kind of a rip off, but she got to sit on a throne made of fake speakers and such, which was pretty cool. Her name was Asia and she was adorable. Also JB danced up on her a bit (still in the wifebeater) which probably made her mom uncomfortable but it's JUSTIN BIEBER so who cares, right?
Highlight performances: The encore--"Boyfriend" then "Baby"--can't go wrong there, and "Beauty and the Beat." Nicki Minaj performed live via satellite. Jay kay, jay kay, it was just her face on a screen that assembled on stage right before her part but it was still pretty awesome. And at the end of that song, JB did his drum solo, which made it even more great. That kid is insane.
All in all it was a solid show. The band and arrangements were great as always (and by "always" I mean the few times I've seen them on TV and on Never Say Never), and I thought he sang really well. Especially considering that he was apparently under the weather.
It was a lot of fun, and I'm so glad I got to have the experience.
Oh, and before I forget…the requests:
Shaved Head Count: Disappointingly, zero. Did he perform all of his songs? No. He did do a medley of some older songs ("One Time," "Eenie Meenie" and "Somebody to Love") which allowed him to get some more in, but he definitely didn't do all of them. Notable exceptions: "U Smile" and "Thought of You" (both I really like), but he did a surprising amount of them considering the "Believe" album has 17 tracks. Set Length: approx. 2 hours. Level of Amazing: 11
Did I leave anything out you wanted to know? What's the best concert you've ever been to?